"Suzanne Arbanas' most ambitious subject matter is portraiture, true to the specific and the narrated, but with the significance of an emotional experience as a test of moral and artistic values. Her artistic interpretation is both traditional and yet new, which is equally true of the sensitivity and empathy of her reaction to her sitters. Her style is crystal clear, comprehensible and energetic, pictorially concentrated, without the seductiveness of color and gesture."
Halil Tikveša, Artist (Sarajevo)
Solo Shows: Craven Allen Gallery, Durham, NC, (2) Roman Petrovič Gallery,(2) Sarajevo, American Embassy Residence, Sarajevo, National Institute for Applied Sciences (INSA) Lyon, France, International Portrait Gallery, Tuzla, BiH, International Art Colony Počitelj, BiH, Branislav Dešković Gallery, Bol, Croatia, Flora Kirsh Beck Gallery, Sturgis, MI, Canvas Gallery, Zagreb, Croata, Art Gallery of Brčko District, BiH Group: Arts Center of the Capital Region, Fence Select Troy, NY, International Biannual Festival, International Portrait Gallery, Tuzla, Collegium Artisticum, Sarajevo, Gallery Prica, Samobor, Croatia, Grand Prix Mostar BiH Drawings, Imago Mundi, Bosnian Cultural Center
---
Collections: Mrs. Jeanette Wagner - Luciano Benetton Collection - Ambassador Douglas McElhaney - Estee Lauder Companies - International Portrait Gallery, Tuzla - INSA Lyon - Schiller Center, Alexandria, VA - Roman Petrovič Gallery, Sarajevo
---
Studies: Art Student's League of New York City, Cite Internationale des Arts, Paris, Corcoran School of Art, Wash.D.C, New York Academy of Art, NYC
---
Contact: suzarbanas@gmail.com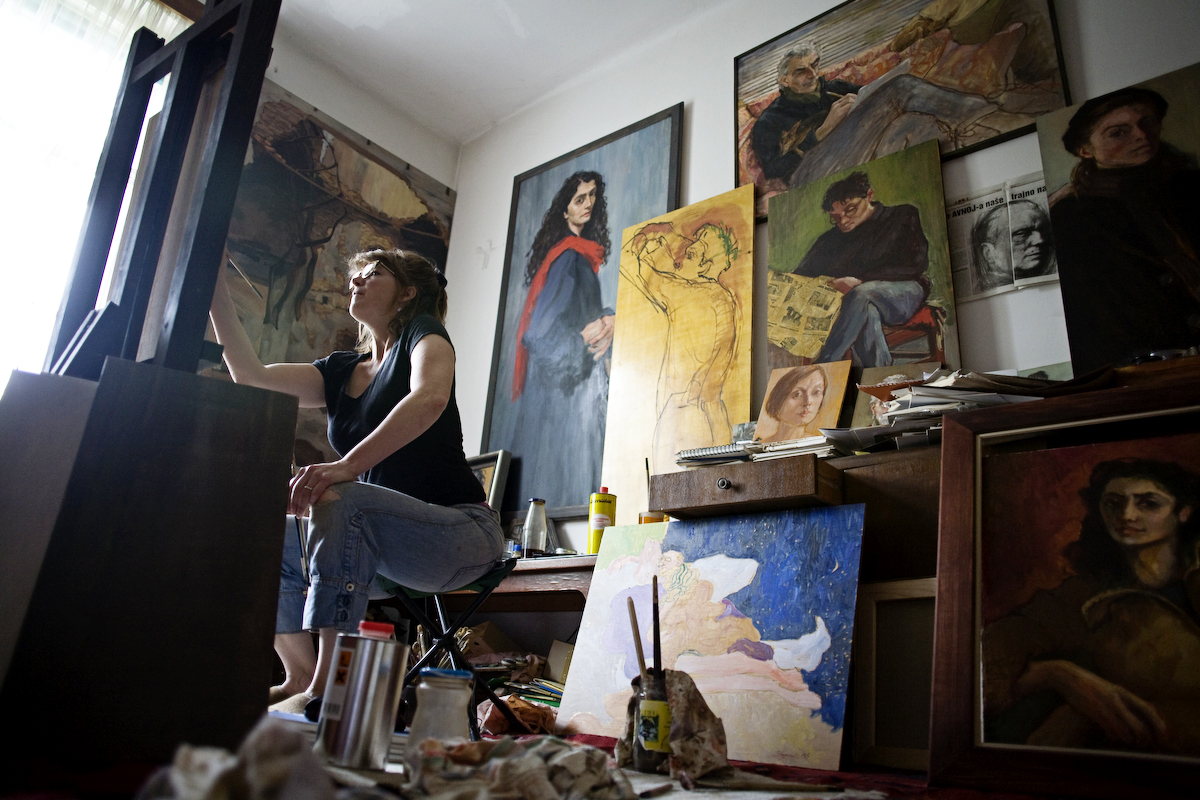 "Arbanas is no slave to the precision of realistic detail; she leaves that to photography. In terms of expressionism, she has displayed a wide range of preferences from free brushstrokes to compositions with colouristic surfaces and testing the limits of the artist's materials. Suzanne Arbanas has thus left her own distinctive mark on the fickle, winding paths of art."
Izet Hanžić, (Most Journal for Education, Science and Culture)
'Both the poses she selects for her models and the angles of view she takes lend character to them. By taking a low angle of view of a woman, she makes an otherwise frail-looking figure seem monumental. Conversely, two middle-aged men seem particularly vulnerable, one crouching behind the other, who looks away. All of this is done with subtlety so the quick look culls little.'
Chuck Twardy (Raleigh News & Observer)